Gaming Cybersecurity Compliance Audit & Certification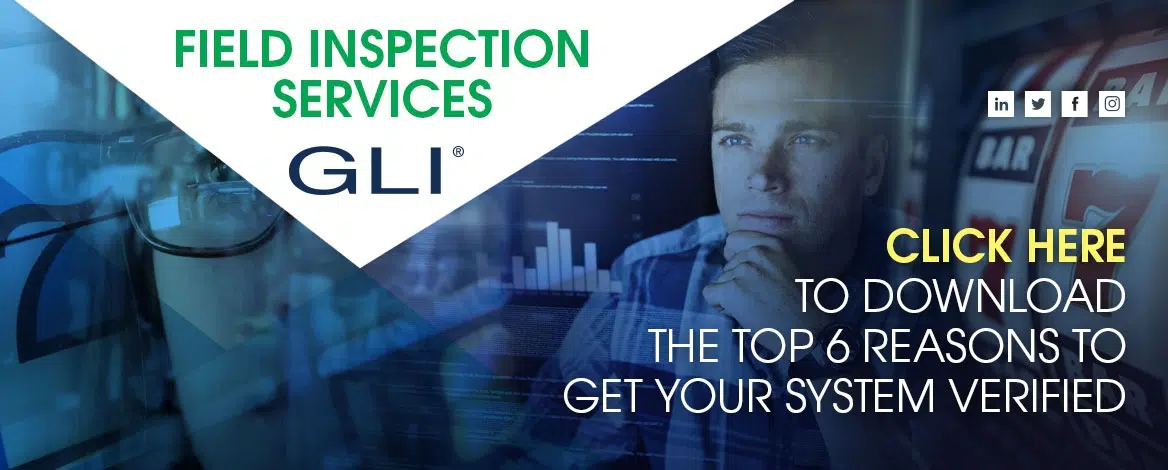 Ensure Your Cyber Security Infrastructure
How do you know your casino's computer systems are protected from both inside and outside threats?
You leave nothing to chance. Gaming Laboratories International (GLI®) offers several types of testing that will help you identify threats and reduce risk before it's too late. Our trained and qualified experts conduct an extensive range of critical onsite inspections to help operators and regulators ensure devices, systems and other equipment are operating securely and accurately.
Field Inspection & Services
Our inspection services include:
Network Risk Assessments
System Inspections
Communication Testing
Software Audits
Server-Based Gaming Inspections
Server Inspections
Field Services Digital Brochure
Network Risk Assessments
Mitigate Your Risk
Network Risk Assessments can help identify network security risks caused by common software vulnerabilities exploited both externally and internally by threats that exist anonymously on the Internet or from trusted staff.
Limit Unnecessary Exposure
GLI will verify your operation's security by exposing weaknesses through actual hack attacks, ensuring your network controls work enterprise-wide. Based on their findings, our team of experts will recommend solutions to mitigate your risk.
Software Audits
Monitoring the Pulse of the Game
When GLI conducts a software audit, the goal is to verify that each piece of critical software found in a particular machine matches the same version that was tested in the lab and complies with a particular jurisdictional standard or set of standards.
Tracking All Moving Parts
Important pieces of software that should be tested include the operation systems and game programs. Other software, which are deemed important to test in some jurisdictions and not others include (but are not limited to) communication programs, BIOS chips, bill acceptor firmware and printer firmware.
Server-Based Gaming Inspections
Assessing Downloadable Content, Player-Centric Technology, Skill-based Gaming and Everything In Between
Server-based gaming inspections consist of investigating all servers and associated computer systems related on that particular closed Local Area Network (LAN). Only the functionality will be inspected.
Communication Testing
Making Sure the Game Is What it Is
No one pulls the wool over our eyes. Our professionals are trained to identify shady activity throughout the game deployment lifecycle from start to finish. Communication testing is conducted on the casino floor to ensure gaming machines are communicating the metering information correctly. At the same time, this testing also checks to make sure the system is recording information correctly.
System Inspections
Identifying Threats Before They Happen
System inspections verify that the controlled files found in a particular system match those that have been previously tested by an independent third-party laboratory and comply with a particular jurisdictional standard or set of standards.
Server Inspections
Optimizing Your Networked Floor
SA server inspection consists of locating and obtaining a digital signature of the controlled files on the server(s).
To watch the latest Field Services webinar, click here. If you are interested in any or all of these services or would like to discuss the development of custom training modules, please contact GLI for more information or schedule an appointment with your Client Service Representative today. We do not take the security of your organization lightly.
Meet Our Field Inspection & Services Team
Scott Gowin
Senior Engineer II
732-942-3999 Ext. 1111